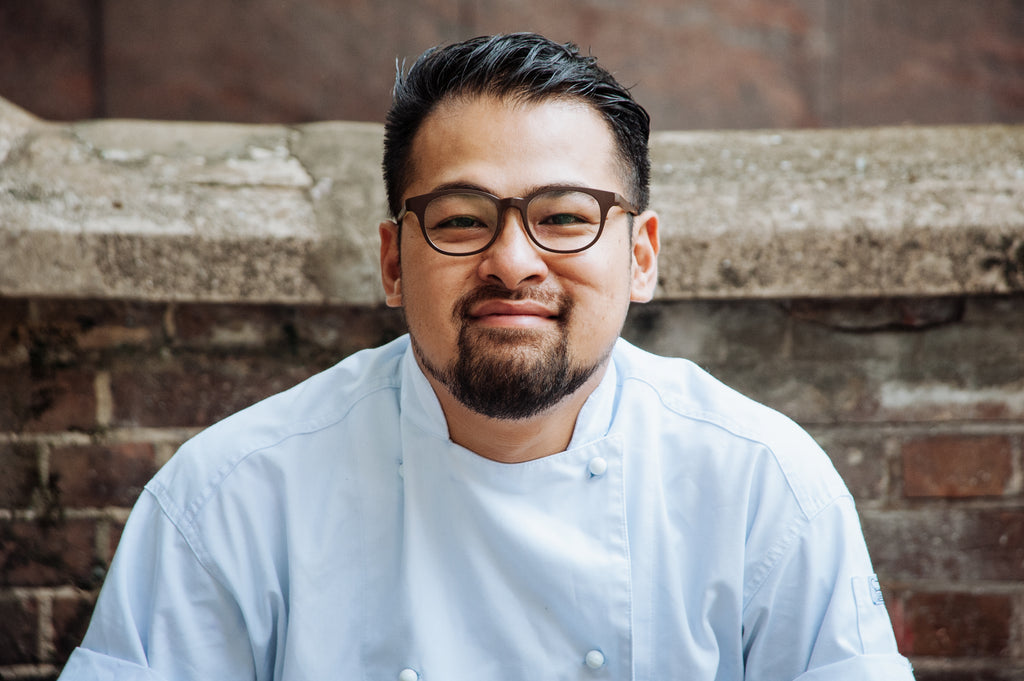 He may be known for his Asian fusion dishes at Ho Lee Fook, but where does chef Jowett Yu satisfy his food cravings? Black Sheep Restaurants' executive chef shares his favourite Hong Kong eats
Taiwan-born and Vancouver-raised chef Jowett Yu is best known for creating two of Sydney's most famous Cantonese restaurant concepts: Ms. G's and Mr. Wong.
Then in 2014, Jowett created Ho Lee Fook, a cheekily-named 'Asian fusion' resto in Hong Kong that spun classic Chinese dishes with high-end ingredients and a side of sass. Now as executive chef of Black Sheep Restaurants, he's overseeing not only Ho Lee Fook but the group's other restaurants including Fukuro, Le Garcon Saigon and Le Petit Saigon. 
In our latest edition of Eat Like A Chef, Jowett (who's a connosseiur of Chinese roast meats and dumplings) lets us tag along his favourite food haunts in Hong Kong:
Pang's Kitchen
This is a no-frills, intimate neighbourhood bistro serving classic Cantonese cuisine. I first came here five years ago with a friend and have been coming back at least once a month, without fail. Don't miss the sweet and sour pork with strawberries, the crispy skin chicken and the stir-fried egg whites with scallops. Perfect for lunch or dinner, but bigger parties should book in advance. 
Pang's Kitchen, 25 Yik Yam Street, Happy Valley, Hong Kong
Tin Cheung 
TIn Cheung is one of the last surviving dai pai dongs in Hong Kong with a street-side kitchen and outdoor seating. Located in Sham Shui Po, it makes for a truly unique Hong Kong experience. Get the salt and pepper squid and their "beef and peaches" (wok-fried beef and potatoes with black pepper and honey) or the chicken organs stewed with zedoary. They're only open for dinner (tip: avoid their busiest hours from 7-8pm), and be sure to order a long-necked beer to go with your meal. 
Tin Cheung, 98 Yee Kuk Street, Sham Shui Po, Kowloon, Hong Kong
Yardbird
Located in hipsterhood Sheung Wan, Yardbird is a modern Japanese izakaya with a focus on yakitori. I've been going since they first opened in 2011 and I love the ventricles and thyroid, tsukune (or chicken meatballs) and oyster. Don't miss the Yardbird Caesar with anchovies and miso, and the sweet corn tempura, which is simply seasoned with sea salt and pepper. While they recently opened for lunch, the yakitori is dinner only so be sure to go early to avoid your favourite skewers selling out. 
Yardbird, 154-158 Wing Lok Street, Sheung Wan, Hong Kong
Yat Lok
Yat Lok, which specialises in Cantonese roast meats, has been around since 1957 and earned their first Michelin Star in 2015—retaining it ever since. The roast goose is definitely a highlight and I recommend ordering by the half so you can try some char siu (barbecue pork) and soy chicken as well.  
Service is fast-paced here, but so is the meal. You eat and leave quickly—there's no time for lingering. I enjoy it best for lunch between 11-12pm, when you can get the goose fresh out of the oven before the rest of the lunch crowd rushes in.
Yat Lok, 34-38 Stanley Street, Central, Hong Kong
BELON
I've been going to BELON ever since they opened in 2016 and it has always been a new and elevated experience. Located just steps away from Ho Lee Fook, you absolutely have to try any pigeon dish on the menu. The Pigeon Pivither is a classic while the Drunken Pigeon is chef Daniel Calvert's take on the classic Shanghai Drunken Chicken. Finish your meal with the seasonal mille-feuille or chocolate tart.
BELON, 41 Elgin Street, Central, Hong Kong
Get more tasty insider tips for Hong Kong with our print and mobile guides: